Posted by Admin | February 23, 2012 | Review NBA Heat Headphones Online
The Mix Master Throwback NBA Heat Headphones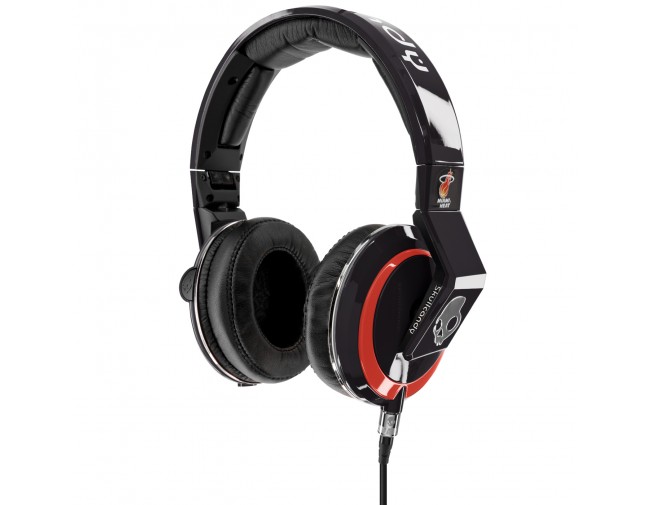 * The Skullcandy Mix Master Headphones retail for AU$379.00 and NZD$484.55
* Propriety mylar drivers create sound supremacy
* Mute button with one-touch control
* Articulated cup movement
* 3-Piece foldable design
* Dual cable inputs
* Includes 2 interchangeable cables
* Mic3 control switch
* Soft-touch memory foam ear pillows
* Pressure-formed protective case
* Includes 6.3mm gold plated adaptor
* Skullcandy Lifetime warranty
* Speaker Diameter: 50mm
* Driver Type: Mylar
* Magnet Type: Neodymium
* Frequency Response: 20-20K Hz
* Impedance: 20 ohms
* Max Input Power: 100 mW
* Cable Type: PU Coil, TPE Straight
* Cable Length: 0.8m Relaxed
* Plug Type: 3.5mm Gold Plated

Like an arena luxury box for your ears. Skullcandy's ultimate DJ headphone, kitted out in team colors for the ultimate fan. Thanks to the Skullcandy proprietary Mylar drivers, mega-plush ear pillows and an arsenal of gig-ready features, the Mix Master NBA edition is worthy of going straight from courtside playoff seats to the DJ booth at the most exclusive club in the city.
Beautiful beaches, beautiful bodies, and enough jaw-dropping plays to keep sports-highlight shows stocked for seasons to come such is the life of a Heat fan in Miami. Show that your Heat-mania comes from deep within with this Throwback edition of our Mix Master NBA Heat headphones, featuring our proprietary Mylar drivers for monstrous low-end power and show-stopping sound quality. Headliner-worthy DJ functions like swiveling earcups, dual cable inputs, and a booth-ready coiled cable keep the party rocking all night long.
The remote and mic are supported only by iPod nano (4th generation and later), iPod classic (120GB, 160GB), iPod touch (2nd generation and later), iPhone 3GS, iPhone 4, iPad and iPad 2. The remote is supported by iPod shuffle (3rd generation and later). Audio is supported by all iPod models. iPad, iPhone, iPod, iPod classic, iPod nano, iPod shuffle, and iPod touch are trademarks of Apple Inc., registered in the U.S. and other countries. "Made for iPod," "Made for iPhone," and "Made for iPad" mean that an electronic accessory has been designed to connect specifi cally to iPod, iPhone, or iPad, respectively, and has been certified by the developer to meet Apple performance standards. Apple is not responsible for the operation of this device or its compliance with safety and regulatory standards. Please note that the use of this accessory with iPod, iPhone, ?or iPad may affect wireless performance.
"I can accept failure, everyone fails at something. But I can't accept not trying."

- Michael Jordan
We hope you enjoy the free infomation as well as the product and website reviews.
© copyright 2011 Devil Street Wear


Home | Brands | Fashion Tests | Contact us | About