Posted by Admin | December 01, 2011 | Paul Frank Candy Print Intimate Set
Have your say join our Community Forum
Paul Frank Candy Print Intimate Set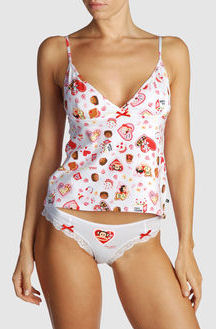 Great features include:
* The Paul Frank Candy Print Intimate Set retails for around $50.00 AUD or $60.00 NZD
* Candy Print Intimate Set by Paul Frank
* 95% Cotton
* 5% Spandex

Paul Frank Industries is a California-based lifestyle products company that was founded on the art of gift giving. Creating relationships through collaborations and licensing partnerships, Paul Frank merchandise includes a wide range of apparel, pyjamas and accessories for all ages, books, eyewear and even bicycles that are sold globally
Paul Frank Industries was founded in 1995 when friends started making vinyl accessories in a garage as gifts for friends. From there the wallets and handbags became a local sensation. PFI was formally incorporated in 1998 and has since grown into a global brand with it's own stores.
The company continues to design products that capture the original ethos from the garage days - now infusing inspiration from music, art and pop culture with a nod to mid century design into everyday objects. PFI's iconic character, Julius is featured on many of their products.
"For people who know McQueen, there is always an underlying message. It's usually only the intellectual ones who understand what's going on in what I do."

- Alexander McQueen
We hope you enjoy the free infomation as well as the product and website reviews.