Posted by Admin | November 29, 2011 | ONeill PM Kevin Geo Board Shorts White
Have your say join our Community Forum
ONeill PM Kevin Geo Board Shorts White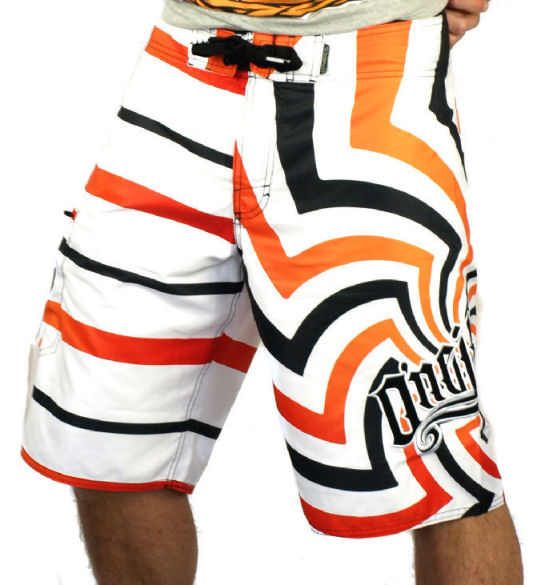 Great features include:
* The ONeill PM Kevin Geo Board Shorts White in Black retails for around $62.00 AUD or $82.00 NZD
* 100% Polyester
* 2011 Summer clothing
* Board Shorts

In 1952 Jack O'Neill opened the first surf shop in a garage on the Great Highway in San Francisco, CA. a sand dune away from his favorite bodysurfing break. While Dale Velzy, Hobie Alter and others had shops down south, they only sold boards. There O'Neill sold his first wetsuits, a few vests he made from gluing together pieces of closed cell foam. From the garage he expanded the average surfer's playground to include locations from Steamer Lane to J-Bay, and from Antarctica to reef breaks off the coast of Iceland.
Since then, O'Neall has made countless improvements to the design and quality of the wetsuit. From the introduction of the zigzag stitch to the names he originated which became generic, (i.e. spring suit, long john, short john, etc.).
O'Neill's son Pat was a pioneer in developing the leash, affectionately known as the "kook cord" back then. Using materials such as nylon lines, suction cups and surgical tubing, Pat found ways to prevent his board from crashing into the cliffs and breaking in half. While testing a leash, founder Jack O'Neill lost an eye and now has to wear an eyepatch.
The O'Neill brand now branches out to many products. Wetsuits, surfboards, boardbags, swimsuits, clothing, and shoes are some of the products on which O'Neill prints their logo.
"Fashion is so close in revealing a person's inner feelings and everybody seems to hate to lay claim to vanity so people tend to push it away. It's really too close to the quick of the soul."

- Stella Blum
We hope you enjoy the free infomation as well as the product and website reviews.