Posted by Admin | December 18, 2011 | Nike 6.0 Melee Shoes - Chlorine Blue, BlueGrass White
Have your say join our Community Forum
Nike 6.0 Melee Shoes - Chlorine Blue, BlueGrass White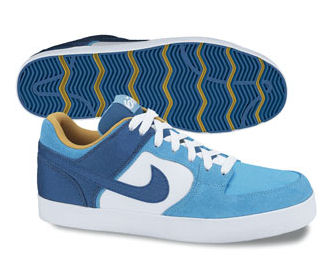 Great features include:
* The Nike 6.0 Melee Shoes in Chlorine Blue, BlueGrass White retail for around 45.00 GBP
* Melee Shoes from Nike 6.0
* Upper: Rolled Tip Edge For Durability.
* Decreased Foam In Tongue And Collar.
* Gore Tongue Straps For Fit.
* Midsole: Compression Molded Phylon Midsole ForOR Increased Comfort
* Outsole: Eight Piece Rubber Pod Outsole That Provides Increased Flexibility With Durability.
* Profile: Great Lightweight Lowtop That Provides Combination Of Durability And Comfort.

The Nike 6.0 brand defines innovation and embodies the creativity of youth, united by action. Nike 6.0 delivers footwear and apparel to support the new generation of action sports athletes who are changing the worlds of surf, snow, ski, BMX, wake and moto. Their unlimited potential and contagious energy deliver the future through performance and lifestyle.
"The only real elegance is in the mind; if you've got that, the rest really comes from it."

- Diana Vreeland
We hope you enjoy the free infomation as well as the product and website reviews.