Posted by Admin | November 21, 2011 | Lambretta Mixed Stripe Long Sleave Shirt
Have your say join our Community Forum
Lambretta Mixed Stripe Long Sleave Shirt (100% Cotton) Navy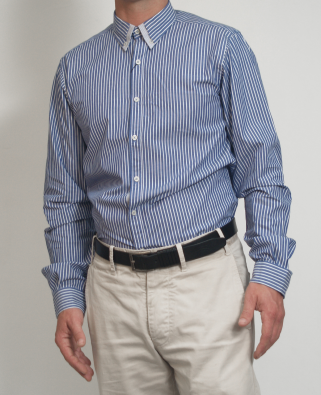 Great features include:
* The Lambretta Mixed Stripe Long Sleave Shirt retails for around $70.00 AUD or $95.00 NZD
* Mixed Stripe B/D LS Shirt
* 100% cotton
* Great value!

Lambretta Clothing is a British clothing company formed in 1997, named after the scooters popular among mods in the 1960s and later. The clothing company uses the Lambretta brand name under license from owner Scooters India Limited. They are the third biggest fashion brand in the UK at present. The company makes menswear, footwear, watches, eyewear, grooming products and accessories.
Their clothes often feature the roundel and colours of the British Royal Air Force, often called the mod target. The company sponsors many football events and up-and-coming musicians, such as The Ashbies. Lambretta Clothing operates its flagship store Carnaby Street along with an additional store in Tokyo. Lambretta also produce The Who collection, under license from the band.
"Style is primarily a matter of instinct."

- Bill Blass
We hope you enjoy the free infomation as well as the product and website reviews.