Posted by Admin | November 21, 2011 | Kustom Pure Thongs, Jandals Chocolate
Have your say join our Community Forum
Kustom Pure Thongs, Jandals Chocolate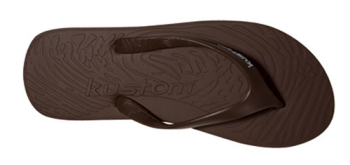 Great features include:
* The Kustom Pure Thongs, Jandals in Chocolate colour retail for around $10.00 AUD or $12.50 NZD
* Pure Kustom Thongs, Jandals from Kustom
* Designed for comfortable fit
* Great value!

Kustom footwear is owned by Billabong and is Australia's biggest surf oriented footwear company. They manufacture both open and closed toe shoes for men, women and children at very reasonable prices.
"Women thrive on novelty and are easy meat for the commerce of fashion. Men prefer old pipes and torn jackets."

- Anthony Burgess
We hope you enjoy the free infomation as well as the product and website reviews.