Posted by Admin | November 14, 2011 | Fenchurch Latimer Shoes Charcoal Orange
Have your say join our Community Forum
Fenchurch Latimer Shoes Charcoal Orange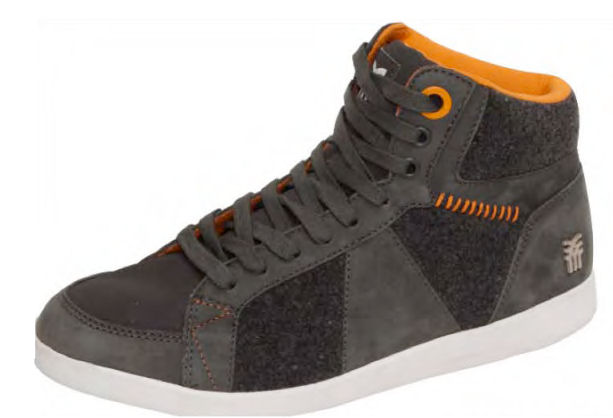 Great features include:
* The Fenchurch Latimer Shoes Charcoal Orange retail for around 60.00 GBP
* PU nubuck /canvas and leather Hi Top on a slim cup sole outside with padded collar

My love for designing and creating clothing started at age 14 when I began skateboarding. Making clothes for my school mates, college friends and later, work mates became a way to fuel a hobby and provided some extra pounds to buy more fabric and learn some valuable pattern cutting and sewing skills.
At 18 I started various clothing projects on the side and by 25 I was ready to get some financial backing and join forces with a small group of like-minded individuals I met through skateboard comps, industry parties and drunken nights out.
We used to skate the banks outside Fenchurch St station in East London back in the days when the plans for this new brand were being hatched so the name meant a celebration of our roots.
The 6 arms on the Fenchurch logo represents what we believe was lacking in our market and what we hoped to offer our customers original design with high quality fabrics and finishing, superior cut and shape, exciting and interesting graphics, reasonable pricing so everyone can afford something from the range, exclusive distribution by supplying to limited retail outlets and finally a relationship with our customer who is the same age as us, shares the same interests and background. We wanted to be a brand with a personality.
Fenchurch launched in 2001. We started selling to our favourite skate shops across the UK who believed in what we were doing and liked our clothes. Our skate team soon expanded to include bmxers, DJs, muscians, photographers, artists and other key figures we respected for their skills and what they were bringing to our subculture.
We were soon approached by new magazines and influential stores across the UK who wanted to showcase our small, simple ranges. This coupled with our initial instore popularity has given us the ability to grow the brand to produce bigger, better ranges, step-up our marketing and launch our first girls range for spring/summer 2004.
PHIL PENWARDEN - Founder of Fenchurch
"The most important thing to remember is that you can wear all the greatest clothes and all the greatest shoes, but you've got to have a good spirit on the inside. That's what's really going to make you look like you're ready to rock the world."

- Alicia Keys
We hope you enjoy the free infomation as well as the product and website reviews.