Posted by Admin | November 13, 2011 | Ecko MMA Block Up T Shirt
Have your say join our Community Forum
Ecko MMA Block Up T Shirt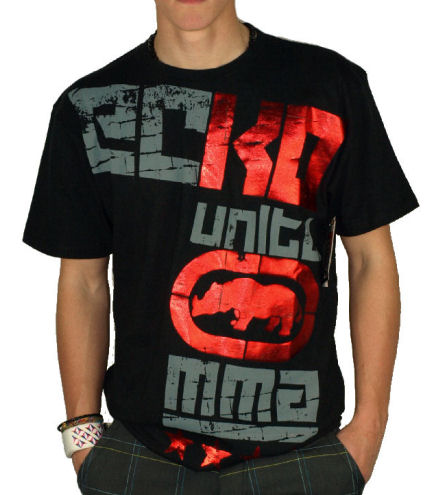 Great features include:
* The Ecko MMA Block Up T Shirt retails for around 30.00 GBP
* Ecko MMA Block Up Tee
* In or out of the ring this Block Up Mixed Martial Arts tee from Ecko Unlimited is ready to rumble
* Stacked stone like logo with red foil accents and rhino weld logo
* Machine wash

Marc Ecko Enterprises was founded in 1993 by Marc Ecko, Seth Gerszberg, and Marci Tapper. Evolving from just six t-shirts and a can of spray paint, Marc Ecko Enterprises has become a full-scale global fashion and lifestyle company. Current Marc Ecko Enterprise brands include: *ecko unltd ., Marc Ecko Cut & Sew, eckored, G-Unit, Zoo York.
*Ecko unltd . has been the leading face of global youth culture since 1993. Rhinos roam the world on the backs of *ecko unltd.'s forward-thinking consumers, and its diverse brands are omnipresent in visual representations of next-generation culture: from music videos and television programs to catwalks, action sports, and video games.
"I'm not that interested in fashion... When someone says that lime-green is the new black for this season, you just want to tell them to get a life."

- Bruce Oldfield 1950
We hope you enjoy the free infomation as well as the product and website reviews.