Posted by Admin | November 13, 2011 | Disney Mickey Quilted Purse Black & Gold
Have your say join our Community Forum
Disney Mickey Quilted Purse Black & Gold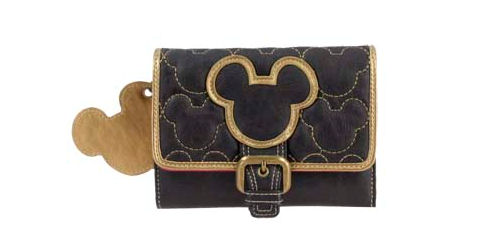 Great features include:
* The Disney Mickey Quilted Purse Black & Gold retails for around 25.00 GBP
* Mickey Quilted Purse by Disney
* All over silhouette print
* Embroidered applique
* Micky Mouse logo
* Press stud fastening
* SIZE H 11 cm, W 15 cm, D 3.5 cm

The Walt Disney Company (commonly referred to as Disney) is the largest media conglomerate in the world in terms of revenue. Founded on October 16, 1923, by Walt Disney as the Disney Brothers Cartoon Studio the company was reincorporated as Walt Disney Productions, Ltd. in 1929, and became publicly-traded as Walt Disney Productions in 1938. Walt Disney Productions established itself as a leader in the American animation industry before diversifying into live-action film production, television, and travel. Taking on its current name in 1986, The Walt Disney Company expanded its existing operations and also started divisions focused upon theatre, radio, publishing, and online media. In addition, it has created new divisions of the company in order to market more mature content than it typically associates with its flagship family-oriented brands.
The company is best known for the products of its film studio, the Walt Disney Motion Pictures Group, and today one of the largest and best-known studios in Hollywood. Disney also owns and operates the ABC broadcast television network; cable television networks such as Disney Channel, ESPN, and ABC Family; publishing, merchandising, and theatre divisions; and owns and licenses 14 theme parks around the world. The company has been a component of the Dow Jones Industrial Average since May 6, 1991. An early and well-known cartoon creation of the company, Mickey Mouse, is the official mascot of The Walt Disney Company.
"Fashion is a social agreement. the result of a consensus of a large group of people."

- Stella Blum
We hope you enjoy the free infomation as well as the product and website reviews.