Posted by Admin | November 13, 2011 | Diesel DS 0164 J5G Gold Sunglasses
Have your say join our Community Forum
Diesel DS 0164 J5G Gold Sunglasses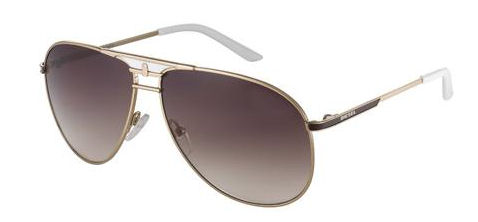 Great features include:
* These Diesel DS 0164 J5G Gold Sunglasses retail for around 75.00 GBP
* Diesel DS 0164 J5G GoldAviator style Sunglasses
* Diesel only the brave logo on both arms
* Metal Frame
* 100% UV Protection
* Comes with White Diesel sunglasses case

Diesel S.p.A. is an Italian design company. It is best known for luxury, pret-a-porter clothing aimed at the young adult market, particularly jeans. The company is owned by its founder Renzo Rosso, and is based in Breganze in northern Italy.
The company was founded by Renzo Rosso in 1978. Diesel's milestone years include 1985, 1988 the hiring straight out of fashion college of ex-head designer and Creative Director Wilbert Das, 1991 (beginning of the international marketing strategy) and 1996 (opening of Diesel's first flagship store on New York City's Lexington Avenue).Renzo said that they learnt marketing from the US, creativity from Italy and systems from Germany. In February 2007, the company launched a major intimates and beachwear division for men and women that is carried in the retail and department stores. Diesel Black Gold was announced in November 2007. The company has around 2,200 employees in 18 subsidiaries across Europe, Asia and the Americas. Its products are available in 5000 retail outlets, of which 300 are Diesel-branded stores. Annual sales were approximately 1.2 billion euros in 2005, and 1.3 billion euros in 2009. Revenue is largely derived from denim sales, but also extremely successful and influential ranges of accessories and children's wear - Diesel Kid. Production of denim jeans is based mainly in Italy. The biggest store is located in Milan, Italy.
For over 20 years all Diesel collections, including licensed products, were made under the Creative Direction of Wilbert Das. Currently the principal lines are Diesel, the main line, and Diesel Black Gold, a new collection launched in 2007 in the casual-luxury segment. The children's collection is called Diesel Kid. Diesel Denim Gallery offers limited edition denim sold in innovative art-gallery-like spaces. Diesel also offers collections of footwear, intimate (underwear), and bags. Diesel's licensed collections are eyewear (made with Safilo), jewelry and watches Fossil, and fragrances LOreal). LOreal and Diesel launched Fuel for Life (for him and for her) in the fall of 2007. A mini-collection for Adidas was launched in 2008 called Adidas Originals Denim by Diesel. The underwear license is held by the US company Mast Industries Inc., who also make lingerie for Victoria's Secret. A new collaboration with AGV has seen the launch of a Helmet. Recently Diesel Home, thanks to collaborations with Moroso nd Foscarini has been launched in the market.The Diesel company has acquired stakes in the brands Viktor & Rolf, Maison Martin Margiela and DSquared2.
Diesel's Creative Director and head designer is Wilbert Das who has worked for Diesel since 1988. Wilbert started as a designer on the Male, Accessories, Leather, and Kids lines. He rose quickly to head the style office and creative areas of Diesel, and in 1993 was given the official title of Creative Director, with responsibilities ranging from directing all product design as well as all communication campaigns. From clothing and accessory design to advertising, new media, merchandising, retail and interior design (:including stores, showrooms, offices, hotels), planning of fashion shows and events, as well as developing new brand extensions such as houseware, furniture and even automobiles. Literally all aspects of the Diesel brand's style and image fell under Wilbert's responsibility. Wilbert Das left Diesel in late 2009 amid rumors of irreconcilable differences with CEO Rosso over the future direction of the company. In 2010 the new creative direction was given to the french fashion founder of WAD Magazine (We Are Different), Bruno Collin.
In recent years the company has driven its attention to endorsing young creativity by sponsoring several projects such as the Diesel-U-Music Contest. Diesel has been the founding partner of International Talent Support in its various forms. Diesel has also offered sponsorship and creative contribution to the 2006 edition of Vienna's Life Ball AIDS charity, as well as the Sundance Film Festival. Diesel's innovative approach to marketing has let it to be perhaps the first clothing company to market their clothing in video games, and has developed innovative approaches to fashion shows. In December 2008, Diesel announced a marketing partnership with Sony Computer Entertainment Europe, to sell their designs in Sony's virtual world, Playstation Home with the majority of the proceeds going to the OTBF Only The Brave Foundation (Diesel's charitable arm). From January to September of 2008, Diesel spent $5.8 million on U.S. advertising, according to TNS Media Intelligence. A November 2009 New York Post article mentions that "the CEO of the fashion house's US division, Steve Birkhold, has resigned to join a rival firm." According to the Post, Birkhold was allegedly attempting to secure deals to expand the Diesel brand into U.S. chain stores like Macy's, while Diesel's Italy execs feared such a move would dilute the brand's image. In 2010 from its headquarters in Breganze, it directly manages 18 subsidiaries across Europe, Asia and the Americas. It is now present in more than 80 countries with 5,000 points of sale, including more than 400 company owned stores. Diesel is part of the holding Only the Brave, which also incorporates 55DSL (a brand strongly linked to street wear and urban culture); Staff International (an Italian company that manufactures and distributes clothing for brands such as Diesel Denim Gallery, Maison Martin Margiela, DSquared2, Vivienne Westwood, Viktor & Rolf and Marc Jacobs Menswear); and controlling stakes in Maison Martin Margiela and Viktor and Rolf.
"So soon as a fashion is universal, it is out of date."

- Marie Von Ebner-Eschenbach 1830-1916
We hope you enjoy the free infomation as well as the product and website reviews.