Posted by Admin | November 12, 2011 | Carrera Cup Brown Sunglasses
Have your say join our Community Forum
Carrera Cup Brown Sunglasses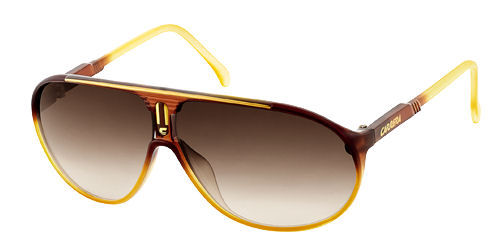 Great features include:
* The Carrera Cup Brown Sunglasses retail for around 80.00 GBP
* The 100% UV Protection
* Carrera logo on arms and lens
* Equipped with Carrera Optyl
* Size 125-66-10
* Complete with branded hard case and warranty information

CARRERA was founded in 1956 in Austria by Wilhelm Anger as the sports eyewear maker Wilhelm Anger Werker inspired by the Carrera Panamericana auto race. Twenty years later, they changed their name to Optyl International and devoted themselves to make motorcycle goggles and ski masks.
In 1964, Wilhhelm Anger developed and patented the Optyl material, which was a heat-hardened plastic weighing 20% less than acetate resulting in a reduction of allergic reactions and improved fit through a memory effect that provided permanent elasticity and dimensional stability. In 1974, the company was renamed CARRERA International and established a headquarters in Traun, Austria, and went to partner with automobile designer Ferdinand Alexander to develop the sunglass collection CARRERA Porsche Design. In the 1980s, CARRERA sponsored sporting events such as the America's Cup, the 1988 Winter Olympics, and Formula 1 racing. In 1996, Safilo Group S.p.A. purchased CARRERA and now have headquarters in Padova, Italy.
"Fashion is an imposition, a reign on freedom."

- Golda Meir 1898-1978
We hope you enjoy the free infomation as well as the product and website reviews.