Posted by Admin | November 9, 2011 | Bukta Ladies T-Shirt 301
Have your say join our Brands Forum
Bukta Ladies T-Shirt 301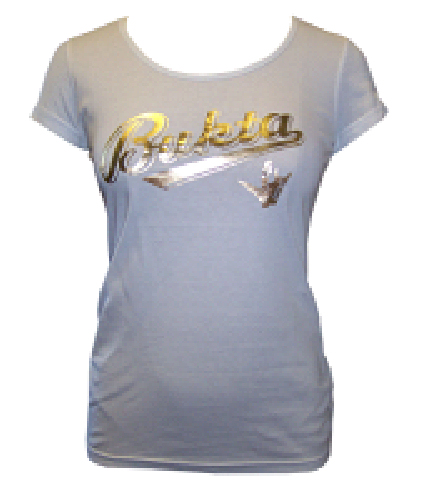 Great features include:
* The Bukta Ladies T-Shirt 301 retails for around 3.00 GBP on sale
* Designer ladies tee by Bukta
* Comes from Bukta's very first ladies range
* Limited stock available

Bukta dates back over 125 years to 1879 and are known as the original sports brand. Once worn by the Manchester United football team that included George Best, Bukta is moving away from its functional sports roots and is now focused on becoming a fashion brand. Due to famous football legends wearing the brand, Bukta was popular in the 1970's and 80's. You won't have seen the label in stores for over 6 years but now millions of pounds have been spent to re-launch the brand. The brand has been aimed at up-market independent stores such as Selfridges and has been back on sale in stores since January 2005.
"Fashion is born by small facts, trends, or even politics, never by trying to make little pleats and furbelows, by trinkets, by clothes easy to copy, or by the shortening or lengthening of a skirt."

- Elsa Schiaparelli 1896-1973
We hope you enjoy the free infomation as well as the product and website reviews.