Posted by Admin | Novemeber 2, 2011 | Bloc BlocHead 01 Helmet Matt White
Have your say join our Brands Forum
Bloc Helmets in Matt White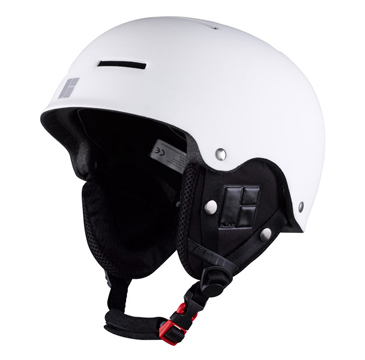 Great features include:
* The BlocHead 01 Helmet in Matt White retails for around 55.00 GBP
* BlocHead Helmet by Bloc
* Freestyler
* Single in-mould microshell
* Heat formed pads
* 14 Vent passive venting
* Removable washable lining
* Extra comfort strap
* Removable ear pads
* Goggle compatible
* CE EN 1077 certified
* Small = 54-55 cm
* Medium = 56-57 cm
* Large = 58-59 cm
* XL = 60-61 cm

The Blochead helmet comes in four different sizes.
Inline UK Ltd was established in 1988 with the creation of Bloc eyewear. This fuelled a revolution in sports and fashion eyewear across the world.
With more than twenty year's experience in design and manufacturing, the creative team at Inline generate new product ideas and design in-house.
The desire for perfection continues to grow for Bloc. They aim to explore the boundaries of new production materials and eye protection. In an increasingly competitive world, the dream of offering the very best is now reality.
Bloc has an obsessive desire for performance and cutting edge design. They have extended the boundaries of production materials, leading to the introduction of their latest Bloc XTR 1800 lens. The Bloc sports range is specifically engineered for high-adrenaline, high-altitude, high-speed activities for the discerning sportsman and woman. Bloc eyewear is tough, comfortable and superbly finished, giving active participants the best possible protection. They can be worn equally stylishly at home, on a leisurely day at the beach or by the pool.
"It is fancy rather than taste which produces so many new fashions."

- Voltaire 1694-1778
We hope you enjoy the free infomation as well as the product and website reviews.