Posted by Admin |Feburary 10, 2013
Have your say join our Surfing Forum
Backside Turn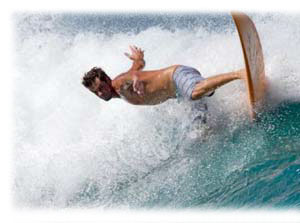 After learning how to perform a Frontside Turn the next step is to master the Backside Turn. In surfing terms, backside simply means that you are surfing with your back to the wave.
For obvious reasons (you need to look over your shoulder to see the wave), the Backside Turn is a little more complicated than it's frontside counterpart. But just as we've mentioned before with the Frontside Turn, it's still all about balance and knowing when and how to shift your weight.
Here are the steps you need to take to perform a Backside Turn:
1. Paddle out and catch a wave. When you feel ready to turn put your weight on your back foot while bending your back knee. You'll notice the nose of the board will raise up a bit.
2. Rotate and lean your body towards the direction you want to go. If you surf with your left foot forward you will turn to the left. If you surf with your right foot to the front, left foot to the rear, you will go to the right.
3. Shift your weight back to the outside rail moving your torso to help with the weight transference as you reach the top of the wave.
4. As you turn, stay centered and balanced, shift your weight accordingly and surf backside (with your back to the wave).
One important thing to remember here is to use your arms to help you balance and make sure you shift your weight at the right time. Once you are able to master the Backside Turn you will be able to move on to more complicated surfing maneuvers.
Have your say join our Surfing Forum
"Surfing is a special kind of madness, a feeling for the sea, a combination of love, knowledge, respect, fear- instinctive perception gained through repeated contact."

- Tom Curren
We hope you enjoy the free infomation as well as the product and website reviews.